Laura Romfh, born into a Floridian equestrian family, started riding when she was 2 on her Grandparents' farm in Fort Lauderdale. From lessons at the Olde Adobe Riding Club, to Shasta Valley and Skaget Valley Pony Clubs, and then onto Dressage shows and Eventing in the Pacific Northwest, riding has been ingrained in her from the very beginning.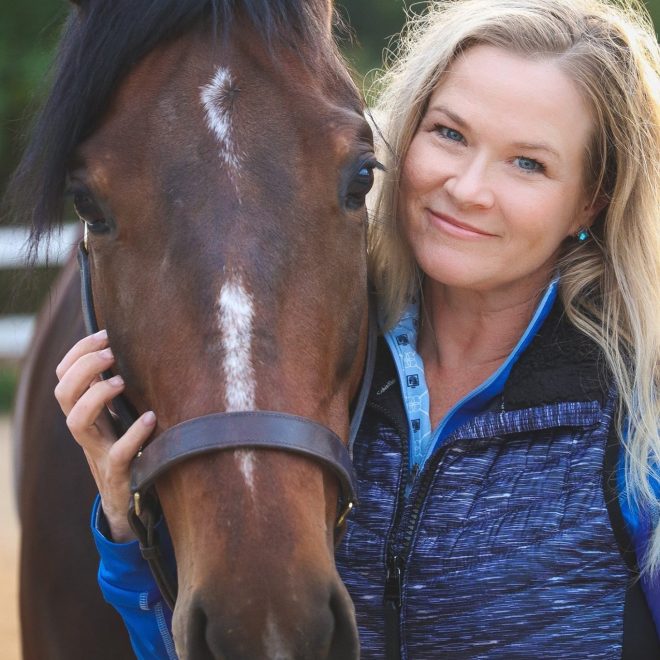 High school turned Laura on to fashion and design, she then went on to attend Parsons School of Design in Los Angeles. With both a lifetime of riding behind her and best fashion design education – the obvious option was to start her own clothing company… at the ripe old age of 25.
Laura, also an avid runner, hiker and back-packer, loved the outdoors and how special fabrics and fibers made the outdoors even more fun and comfortable. She saw the equestrian market was missing this entirely. At that point equestrian clothing was all made of cotton, acrylic, nylon or polyester, and not the athletic kinds! She also noticed that riding clothing didn't really fit. The polos were boxy and unflattering, the breeches shaped for little boys with no curves. Completely unchanged from the 1970's and 80's.
She developed the Romfh CoolMax Show Shirt – designed to fit and flatter a woman's curves, wick the moisture from her skin, as well as giving her more room for air-flow inside her show coat. Dover Saddlery featured the shirt in their catalog and the Romfh clothing line took off! Having influenced and revolutionized the entire equestrian market, Romfh still is classic, no-nonsense tasteful equestrian fashion for the serious rider and athlete with great color palettes and uuber soft micro-fiber fabrics.
Romfh will always keep Equestrian Fashion on its toes!
Laura Romfh, Designer